Rachael Cavalli - Super Cock! (2021) HD 1080p
Имя актрисы
: Rachael Cavalli
Название ролика
: Super Cock!
Номер на сайте
: mih18025
Подсайт и сайт
: MomIsHorny.com / BangBros.com
Дата производства
: 2021 г.
Жанр
: Incest, Blowjob, Pornstar, Hardcore, Cumshot, Facial, Blonde, Milf, Hairy, Bit Tits, Step Mom, Busty, Big Booty, Doggystyle, Missionary, Riding, Cow Girl, Vaginal
Продолжительность
: 00:30:23
Описание
: Johnny was enjoying an afternoon of reading his favorite comic books, when suddenly he had an idea. Becoming a super hero could be easy. All he needed was the costume and cool power. Remembering that he had a massive cock, he decides to create 'SUPER COCK!' the new hero to save all the horny milfs of the world. He quickly got to work creating a costume and having some fun around the house with his super cock out. His stepmom gets home and catches him. He made a mess, and ruined her new bed sheets trying to make a cape. She decides instead of punishing him, she should see what his super power really is like. Super Cock comes to the rescue and gives her that dick! She gives him an amazing blowjob and they fuck in multiple heroic positions until he blasts her with his super cum.
Тип HD видео
: 1080p
Формат видео
: MP4
Видео
: MPEG4 Video (H264) 1920x1080 29.970fps 10000kbps
Аудио
: AAC 32000Hz stereo 48kbps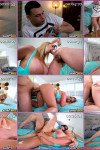 Загрузил:
rintor
(26 февраля 2021 11:45)
Взяли: 312 | Размер: 2.14 Gb | Последняя активность: 16 мая 2021 17:34
Раздают:
1
Качают:
0
Скачали:
135
Ещё не благодарили