Sofia Lee, Jesica Bell - Messy meditation (2021) HD 2160p
Год производства
: 2021 г.
Страна
: Czechia
Жанр
: Natural Big Tits, Bouncing Boobs, Curvy, Dildo Fucking, Fingering Pussy, Golden Shower, Lesbian Pissing, Masturbation, Small Tits, Piss Play, Piss Spitting, Pissing In Mouth, Pissing On Self, Slim, Tattoo, Toys, Watersports
Продолжительность
: 21:56
Студия
: VIPissy.com
В ролях
: Sofia Lee and Jesica Bell
Описание
: Sofia Lee and Jesica Bell are doing some meditation together outside the sauna in todays VIPissy update. Jesica likes the look of Sofia's big tits, so while Sofia is deep in relaxation, Jesica stands up and pulls her hotpants to one side. She starts pussy pissing all over Sofia, bringing her out of her meditation and luckily for her, Sofia is up for some fun and laps up Jesica's pee from her hands. Jesica finally gets her hands on Sofia's big tits and these pissing lesbians continue their fun as Sofia gets naked and pees all over Jesica's hotpants! She licks her way up her body and helps her to strip naked too. Jesica stands up and as Sofia licks her pussy, she starts to give her some pee in mouth action. Jesica gets her turn too and then using both ends of a skipping rope, these pissing pornstars fuck themselves quickly! They both drench each other in more golden showers with Sofia masturbating until she enjoys a squirting all over Jesica's face.
Тип HD видео
: 2160p
Качество видео
: HDRip
Формат видео
: MP4
Видео
: avc, 3840x2160, 25.00fps, 23,3Mbp/s
Аудио
: aac, 48000 Hz, 317kbps, stereo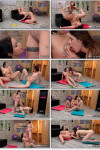 Загрузил:
rintor
(26 февраля 2021 08:16)
Взяли: 208 | Размер: 3.63 Gb | Последняя активность: 12 мая 2021 12:03
Раздают:
0
Качают:
0
Скачали:
107
Ещё не благодарили