Russian Hackers / Русские хакеры (2019) HD 720p
Год производства
: 2019 г.
Страна
: USA
Жанр
: Feature, Gonzo, Anal, Big Boobs, Group, Lesbians, Fingering, Pussy Licking, POV, Deep Throat, Oral, Facial, Blowjob, Cumshots
Продолжительность
: 1 h 50 min
Режиссер
: Franck Lentini
Студия
: Private Gold
В ролях
: Mila Milan, Nicole Black, Elena Vega, Stacy Cruz
Описание
: Can one man topple an entire government? Can one man alone jeopardise the safety of millions? In Private Gold, Russian Hackers it sure seems that way, the police are concerned and that's why they've put together a super team of girls ready to the exploit the one weakness of their most wanted criminal hacker, Alexei. Watch team leader Mila Milan lead the talented and extremely sexy taskforce of Nicole Black, Elana Vega and Stacy Cruz on a chase to do what's ever necessary to catch him. Alexei is smart, but he's a man all the same and there's no way he will be able to resist these girls. So strap in and get ready for an exhilarating man hunt, with four new girls and a whole lot of sex in Private Gold, Russian Hackers.
Тип HD видео
: 720p
Качество видео
: HDRip
Формат видео
: MP4
Видео
: AVC, 4 993 kb/s, 1 280 pixels, 720 pixels, 25.000 FPS
Аудио
: AAC, 125 kb/s, 2 channels, 48.0 kHz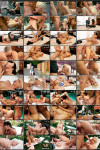 Загрузил:
rintor
(15 апреля 2020 08:16)
Взяли: 743 | Размер: 3.95 Gb | Последняя активность: 22 июня 2021 02:18
Раздают:
2
Качают:
0
Скачали:
227
Благодарностей: 3